Company News
How Much Do you Know About Edge Banding
1, Wood grain edge banding has the characteristics of soft, natural,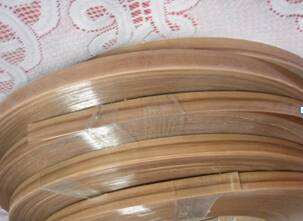 invariance and strong adhesion. Its good adsorption and bonding of furniture, especially wooden panels bonded with all blend into one harmonious whole. Its specifications: thickness of 0.1-0.3mm, width of 20-80mm, length is generally 2000mm. Due to the edge is very thin, together with different wood fiber has different density, so the wood edge article is with defects of easy to break and easy tearing, but the back colloid coating processing can make up for the defects.
2, PVC edge banding is with heat resistance, resistance to oil and strength,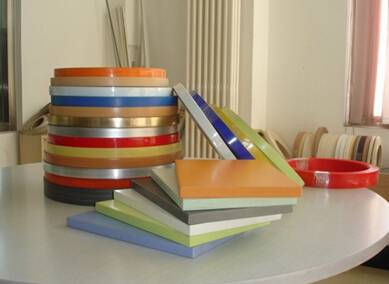 hardness, high degree of bending; the surface performance is good, wear, can cut repair; surface effect is also good, the patterns and colors are close to the natural wood color of the log, it may also have other colors and patterns; bottom surface after processing or coated processing, PVC edge bonding effect is also very good. Its specifications: thickness of 0.2 ~ 3mm, width of 19-50mm, length of 1000mm. PVC edge banding strip thickness has a certain stress above 2mm, it must be heated and softened in use or improve the adhesive temperature, otherwise it will automatically fall off because of not solid stress paste.
3, ABS edge banding has characteristics of wear-resisting, fire prevention, anti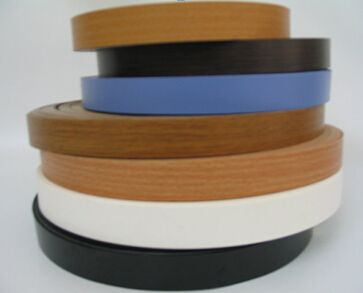 oil, moisture proof, acid resistant and excellent flexibility, bond adhesion strong, not easy to fall off. Its specification: thickness is 0.2 ~ 0.4mm, the width is about 25mm, the length is 1000 ~ 2000mm. ABS edge banding has excellent bending performance, better when heated, but there are defects as easily broken. Manual operation and mechanical banding are both OK; requirements of hot melt adhesive, white latex and cement are not high; selection of hot melt adhesive is melt temperature control for 120 to 160℃, pressure in 4 – 6 MPa. Curing time for 20 ~ 50 seconds, when pasting the indoor environment temperature is 15℃. In view of the fact that the permeability of the ABS strake of hot melt adhesive, adhesive is stronger than PVC, and the plate paste to reduce the amount of glue coating, general control in 6 - 8g / linear meters range. Mechanical edge banding, visual effects, uniform glue coating, textured clear; coating machinery operating at speeds of as much as 30 to 50 meters / minute, the edge paste operation speed is all edge banding strip the fastest, so that both can guarantee the quality of paste and improve the work efficiency.
4, Acrylic edge banding is molded by acrylic extrusion. PMMA commonly known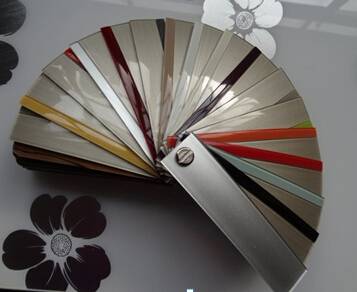 as organic glass, also known as acrylic. Acrylic edge band is a kind of early developed important thermal plastic, with good transparency, chemical stability and weather resistance, easy to dye, easy processing, beautiful appearance, has a wide range of applications in the construction industry.
Acrylic edge is highly transparent. Organic glass is currently the most excellent polymer transparent material, transmittance reached 92%, higher than the glass transmittance. The lamp is called the artificial sun solar is quartz do, this is because the quartz can be completely through ultraviolet. Ordinary glass only through 0.6% of the ultraviolet, but the organic glass can through 73%.
Acrylic edge band toughness is good, product cut edge and face has the same color, and has the effect of antioxidant, anti UV and anti high temperature resistant. It is mainly used in high-grade furniture, kitchen cabinets, doors, shelves, bedroom suites and office furniture, according to the product specification or customer requirements can provide a wide range of sizes and thicknesses, the range can be from 0.5 mm to 8 mm, the width from 9mm to 180mm.